The Last Annual Official
Dennis Gross Memorial
Sacramento
Peep Off!
2009
Peep Off XII: Of Gods and Men
Yes, I know I said I was stopping at ten. Man, X amount of Peep Offs should be enough for anyone but I turned it up to XI. Now here it is, time for el ñumero twelve-o.
PO-XII
My place
Saturday, April 18 (aka DeeAnn's birthday)
around 2pm-ish I'll fire up the BBQ
Peepery around 3pm-ish
Invite your friends. Have them invite their friends. It's all swell with me.
If you're teevee/radio/papers around a 2 hour distance, please read the FAQ.
Once again, don't look here ADULT unless you're a perv.
Don't blame me, blame Star Trek. I'm just keeping up with them. And for those nerds who say, "No, this next Star Trek is number 11", I say, "No, it's 12. Keep looking and you'll find the missing Star Trek which is a wonderful movie if you're geek enough". Yes, 'Star Trek: Of Gods and Men' should count. It's one of the best movies they've done.
Let's see... the prizes. Um, I guess it will be:
1st place: Marletta's newest painting masterpiece
2nd place: Nothing, you fignut! (consider it as "stock in Lehman")
3rd place: Quite possibly a half a bottle of Triple Sec but maybe a full bottle of Peppermint Schnaaps
Now the question is, will there be a Peep Off XIII? It seems like it since there's a Star Trek movie coming out this year (Star Trek: The Original Series Prequel). But still, I like claiming every Peep Off is the LAST ONE EVER, so this could very well be the last of the Peep Offs.
If you're keeping up with me, I did Round 2 of my round the world motorcycle trip. I was hoping I'd finish the lap, but no, it was just Nepal and India. Round 3 is when I'll finish it. I plan on leaving in another couple years. Man, I hope these Peep Offs stop happening.
My neighborhood went way downhill with the midtown gentrification, but I have high hopes that the crumbling economy might still bring back Sacto they way I grew to love it. Cheap with dive bars. There's not many dive bars in the grid, but I have a couple I've squirreled away. No, I'm not going to tell you where they are, or if you insist, I'll make something up. Once again, if you're going to drive drunk, you should do so responsibly.
Skipper and I kept trying to find armadillos to BBQ. We had no luck at all. If anyone can find an armadillo, please let me know. One of my favorite parts about BBQing armadillos is saying this part: 5% of armadillos carry leprosy. As Cecil Adams says, "Fewer than 5 percent of wild armadillos have it, though I grant you that 5 percent of 30 to 50 million is a lot of armadillos". And damn it, a Peep Off needs leprosy!
As usual, this often gets filmed, so if you don't want to risk being on film, wear a mask. You should wear a mask anyway since cameras steal your soul. The last Peep documentary (yes, there's been more than one), that filmed here is getting set for release. Check out The Power of the Peep.
Start building your diorama!

We tried to get the Official Just Born (tm) Marshmallow Peep Bus to come by in 2004, but Just Born said "Go to hell, you old bastards" and then they threatened to give me a Columbian necktie. The same thing they did to James in Knoxville, the marshmallowy jerks. Knoxville is the Sacramento of the South. I'll probably move there one day.

Peep Offs from Around the World! (updated in 2004)
2008 Results. It was a nice small Peep Off under a cloudy sky. A throwback to the first couple Peep Offs. And no cops showed! Very nice. First time in years that's happened. My speed dealing (not speed dialing) neighbor called the landlord to complain -- I think because she couldn't sell that day. He thought it was funny and said he was working on evicting her. The prize was another great Marletta painting. This time it was "old peep and the sea" -- a lonely Peep sailing across the ocean. I wish I could find a picture of it. The winner was Annie who drove up from Santa Barbara based on just reading about the Peep Off! She ate 65. Chip from Chico ate 55, threw up, ate his puke to stay in the game, then ate 5 more peeps. Third place was Cody who drove up with Annie.
1st place prize: "old peep and the sea"
2nd place: fucking nothing, loser!
3rd place: Petri dish candy eyes and brains
I'd also like to thank Thresherbeast for eating 8. He's going to start running his own Peep Off soon. I tried to find a pic of him throwing Peeps on fireworks but no go. Enid ate zero!
2007 Results. The prize was great. Marletta did a great painting of a sock monkey on the moon humping a Peep. Doug o' th' Ozarks won continuing his winning streak with 2 consecutive victories! It rained for the first time at a Peep Off. It's now October and the floor of my room is still sticky. As usual, The Man showed up. They get called every year. This time it was two cars with two female officers. Don't be surprised if one of them shows up to compete in the 2008 Peep Off.
2006 Results. I wrote them down. I don't know where I put the notes. Doug o'th' Ozarks won with a miniscule amount of Peeps. There was a bit of vomit involved with the Bay Area Guy* in the lead during the ending. He didn't eat the puke so he was disqualified.
*Bay Area Guy is a guy I don't know who drove up for all the Peep Offs except the 2008 one. He wised up.
2005 Results. Hell if I know. I was in New Zealand pushing my motorcycle around looking for the bits of my piston. I should've used Peeps to replace the piston. That would've kept it running. Someone won -- I don't know who. "Poky Peep Fun" emailed me some ADULT pictures of Peeps pinned to certain ADULT things. Please, don't look.
2004 Results. I don't remember and the results are on a piece of paper somewhere in storage with all my stuff. The winner, Gillie, ate eleventeen brazillion peeps. A few less than Dennis Gross. That "won" her the right to sign her name to my wedding certificate.
2002 - Peep-Off VI - Peepzilla - Results
PEEP-OFF V - Peepageddon - April 28, 2001
(Canadian National Day of Mourning)
Peep 2K Peep-Off 2000!! (aka Peep 2K, not Tooth Decay) This was the one where riot cops lined the street to stop the Peep Fight. Okay, the Sac PD wasn't really in riot gear, but they blocked off the street and seemed a wee bit pissy about marshmallow.
3rd Annual Peep-Off (aka, Tonite We're Gonna Peep-Off Like It's 1999)
Salon.com writing about Peeps in general, and the Peep-Off in particular.
$180 Peep jewelry done by someone who's friend stalked me
Oh wait, she removed her Peep jewelry. Dang her.
All the damned Peep links in the world from about 20 years ago
Dave Ninja story about the 1999 Peep Off
Amy Paris story about the 1999 Peep Off
Jack Eidsness started this whole thing. Here's a copy of his original Peep Off page. A quote from Jack I swiped from another page, "The Peep is a monument to the industrial paradigm of 'More, faster, sugarier, marshmallowier,' " says Jack Eidsness, a University of Maryland computer science major. Now he's involved with the wonderful Mozilla web browser which you should download and use religiously.
Origin of the Sacramento Peep Off: I'm at work looking around at Peep sites 'cause Lurch had tried to shove a whole pack of 10 purple peeps in his mouth at once that day (with no success - he only made it to 7 and that's when he started foaming purple and gave up). I found Jack's site and saw that he hosted a Peep eating contest. I send email that says, "Hey Jack, What's involved in having a Peep eating contest?" Jack replies, "I just put you up on my site as the contact for the Peep Off in Sacramento." So I had one. Later Lurch and I bought Peep Off t-shirts from him. True story.
In Jack tradition, if anyone else in the country wants to know about Peep Offs, let me know and I'll put you on the Peep Offs around the country page.
These are shots of Bill puking shortly before the cops lined up across the street. The Sacramento Police Department setting up a perimeter around the house and lining up to stop people from eating Peeps is an odd image that will live with me forever. The story is in the Peep 2000 link. Too bad the pictures of the blockade didn't come out.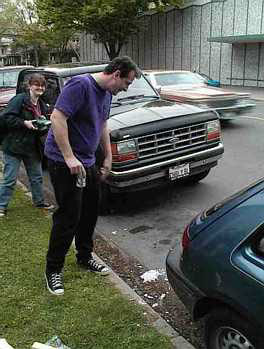 Bills wonderful Peep puke. He was puking, eating more Peeps, puking, eating more Peeps, puking and eating more Peeps.